The advent of digital health technology is revolutionizing the way patients manage chronic illnesses. Among these illnesses, kidney disease is one that particularly needs a comprehensive solution. For patients suffering from kidney disease, managing their condition is a daily challenge. In response to this challenge, Cody Hunt, developed a new, innovative mobile app called Kidnee. This tool aims to help kidney disease patients manage their disease day-to-day, track essential nutrients, keep up with medications, and monitor appointments.

You can watch the full video here:
The Inspiration behind Kidnee
The journey of Kidnee began from a personal connection. Cody Hunt, a Product Designer & Developer, found inspiration through discussions with his brother, a kidney transplant recipient. Understanding the scarcity of quality platforms for people living with chronic kidney disease, he took it upon himself to build one. The goal was not just to create an app, but an AI-enabled platform to guide and support individuals living with chronic diseases, beginning with kidney disease.
Kidnee is a cross-platform app, accessible on both mobile and web, made possible by FlutterFlow and Firebase.
Key Features of the Mobile App
HomePage: The Kidnee app offers a user-friendly dashboard that provides a summary of a user's day, with respect to their diet and medications. The app also gives a snapshot of the users' most recent lab results and upcoming appointments.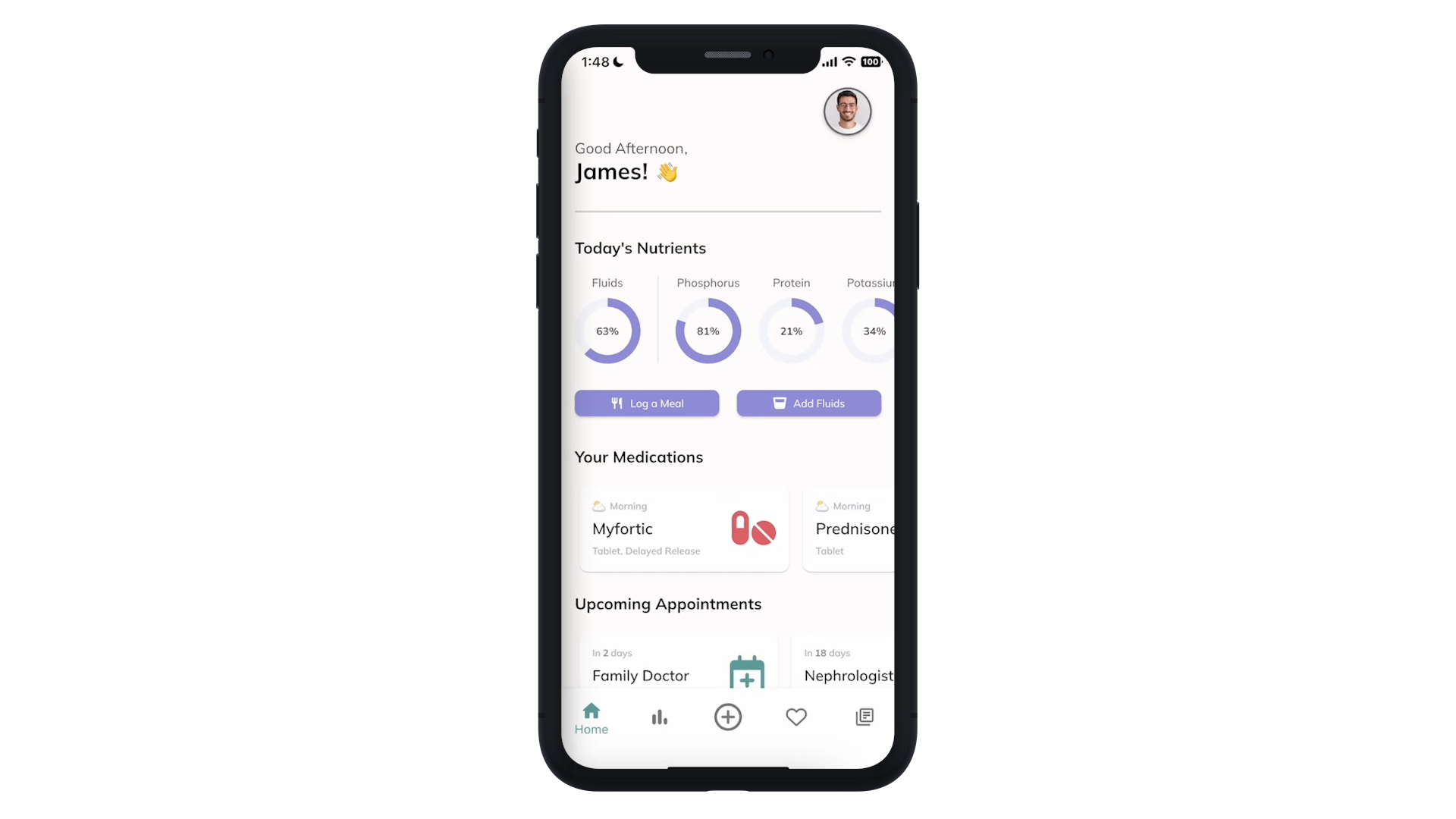 2. Track Page: The 'track' page delves into a detailed view of diet, vitals, and lab results trends. It allows users to add results, readings, and maintain a food log to monitor their nutrient intake pertinent to kidney disease. The addition of meals is simplified through the use of natural language processing. Users can type naturally into the search bar, and Kidnee's API will determine what they're looking for and provide appropriate results.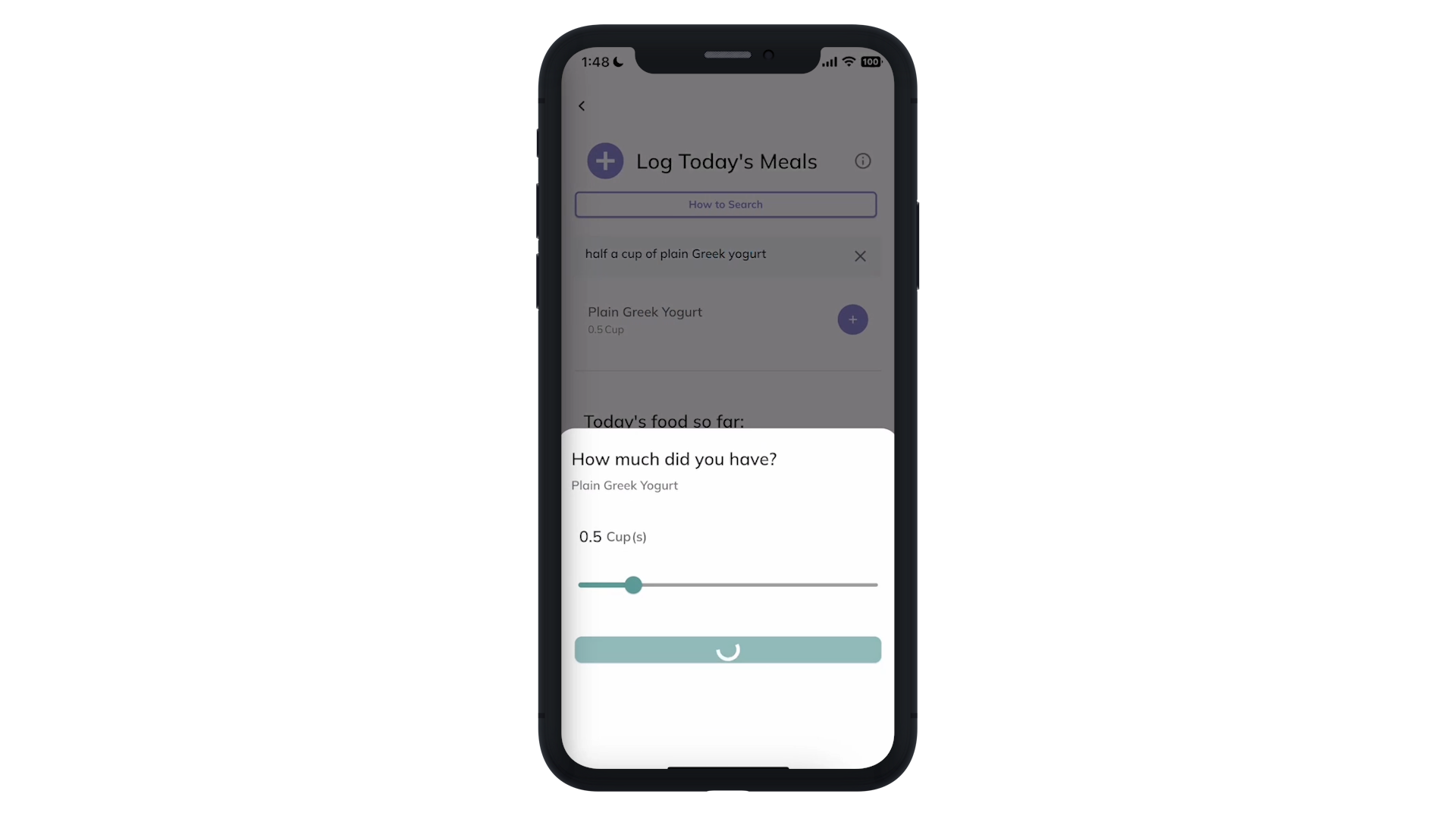 3. Care Page: The care page enables users to organize medications, appointments, and care team contacts. Adding medications and planning out discussion points for appointments is a breeze with the Kidney app.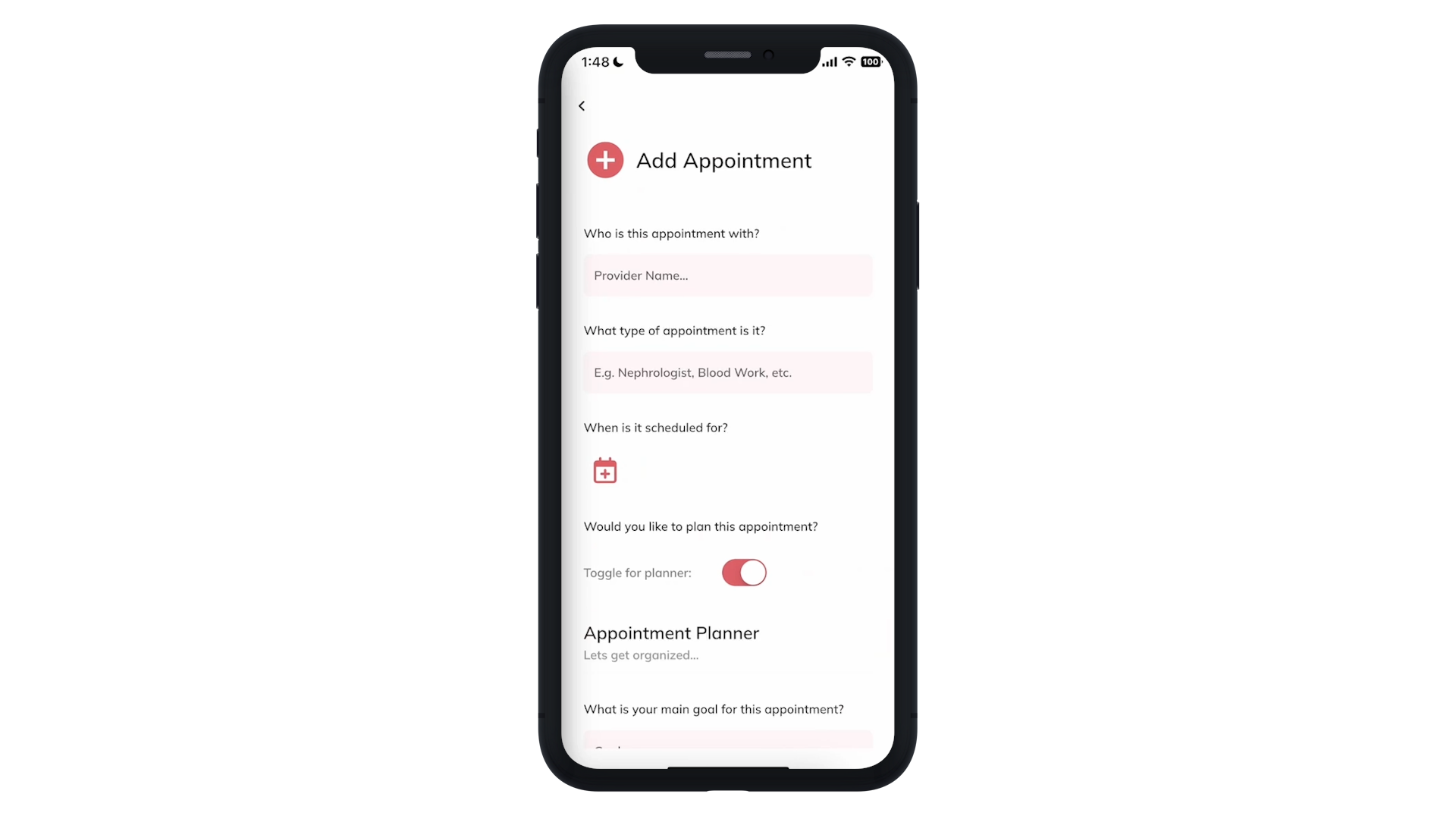 4. Learn Page: The learn page is a dedicated space where users can read blog posts covering various aspects of kidney disease and find kidney-friendly recipes.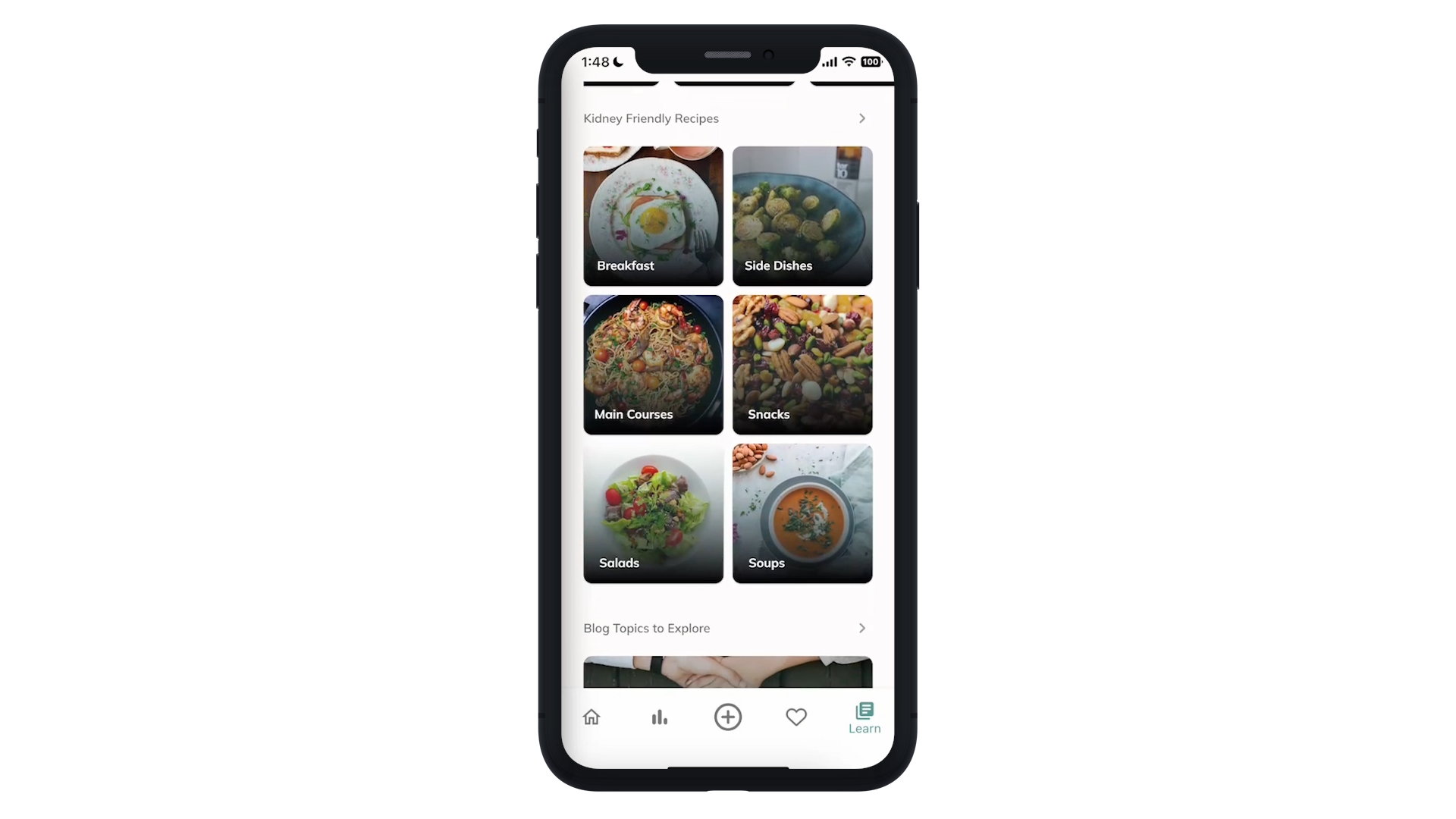 5. Targets Page: The app offers a personalized experience where users can set their targets for a growing # of metrics - including weight, nutrient levels, blood glucose levels - all in coordination with their care team.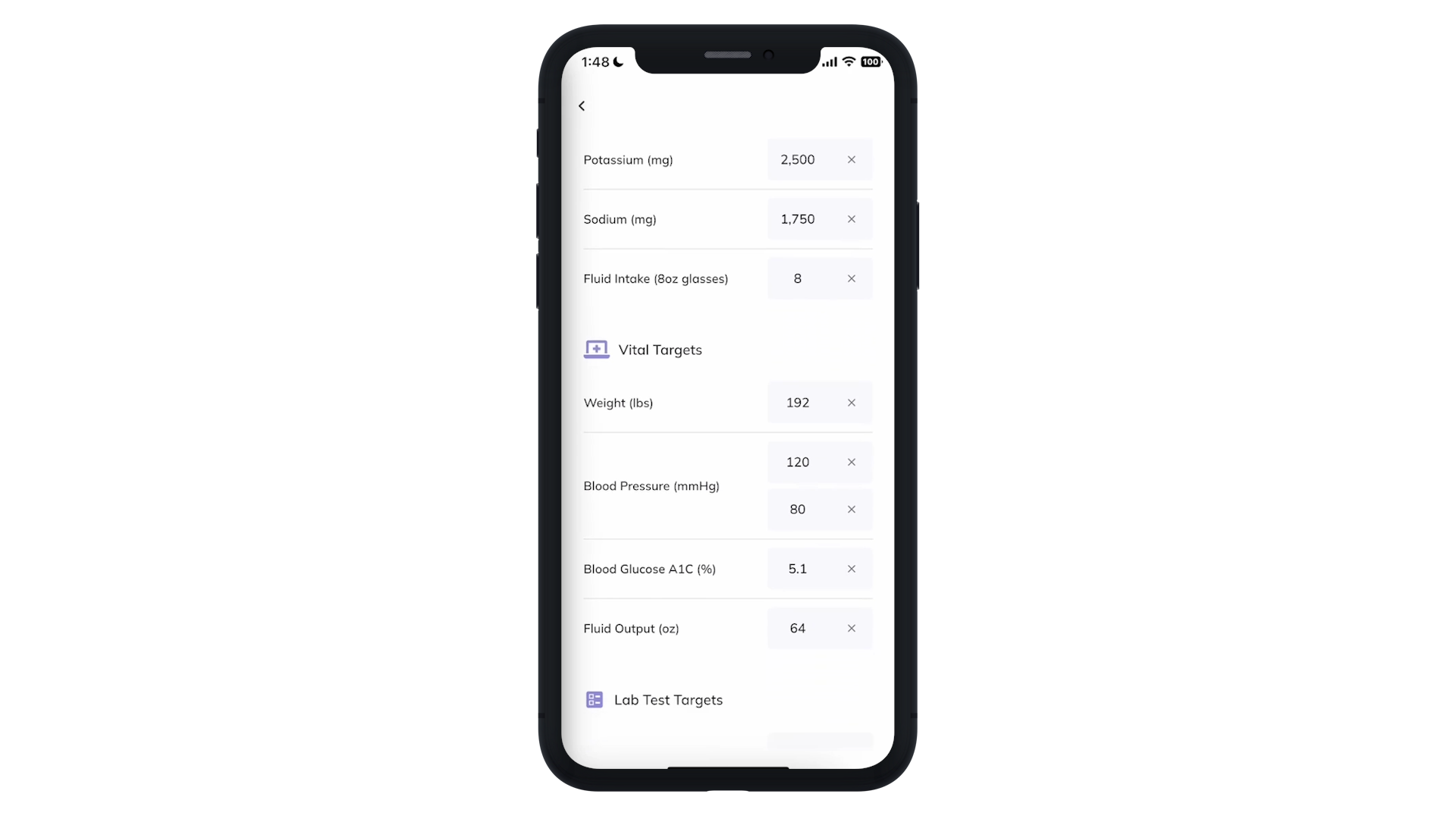 Web Features and Kidney AI
When using the web version of the app, users are greeted with a similar summary of their day, including upcoming appointments, daily medications, and recent blood work results.
A unique feature that the web version introduces is the Kidney AI. This AI model can provide kidney-friendly meal suggestions based on the ingredients available to the user.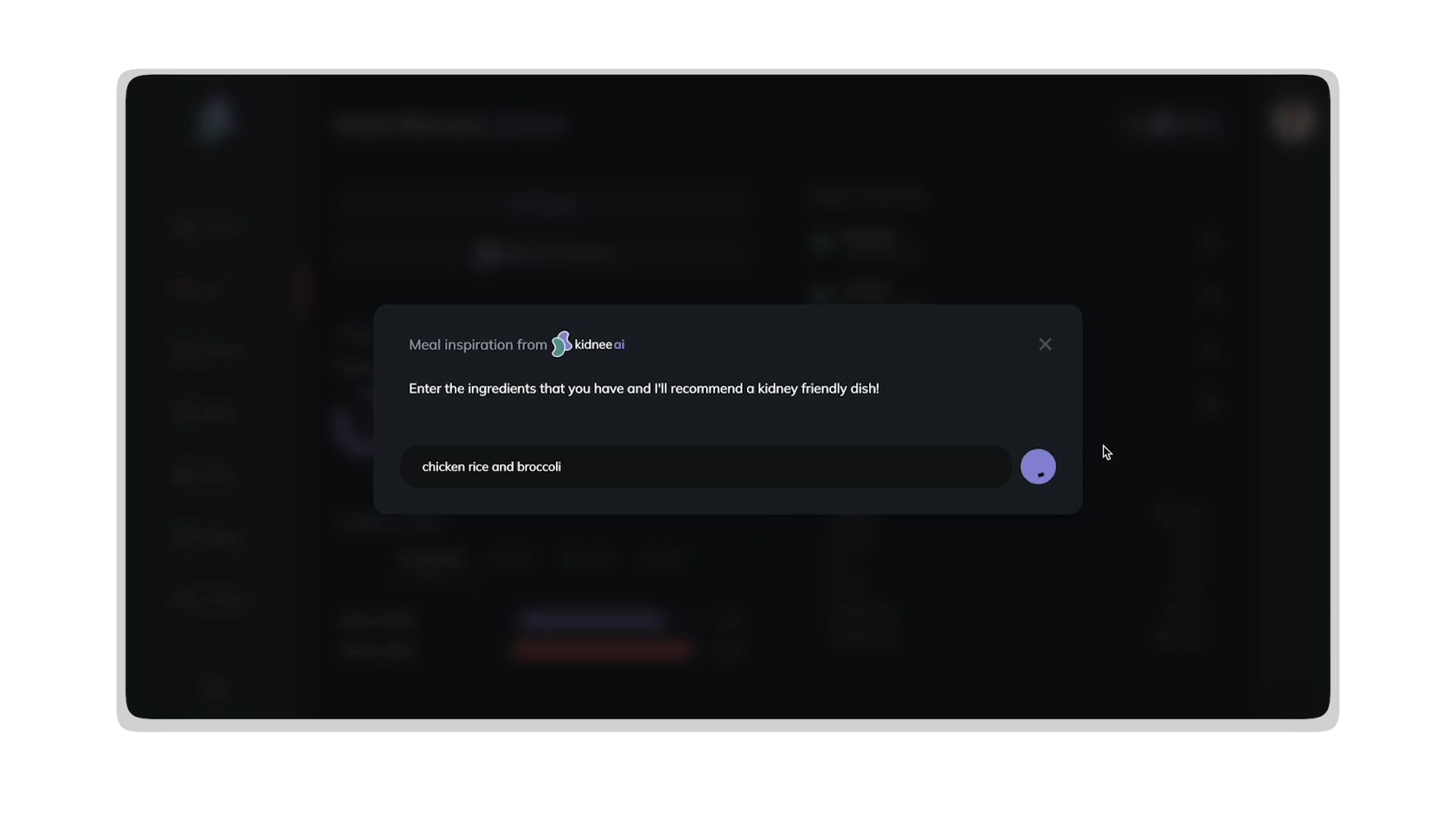 Kidnee AI can suggest kidney-friendly recipes based on the ingredients available to users. It can also help users manage their daily regimen and add new medications as needed. Kidnee AI can answer questions related to kidney disease, providing valuable guidance to users.
In the near future, Kidnee plans to introduce an 'Explore and Connect' feature, providing a Reddit-style community for users.
Additionally, the AI model can answer questions related to kidney disease, offering quick guidance to users. The app also allows users to manage their daily medication regimen and add new medications as needed.
Designing for Responsiveness and Efficiency
One of the app's highlights is its responsive design, facilitated by FlutterFlow. This feature allows the app to function optimally, regardless of the device or screen width that users are on. This approach promotes scalability, ensuring that the app grows seamlessly as its features expand.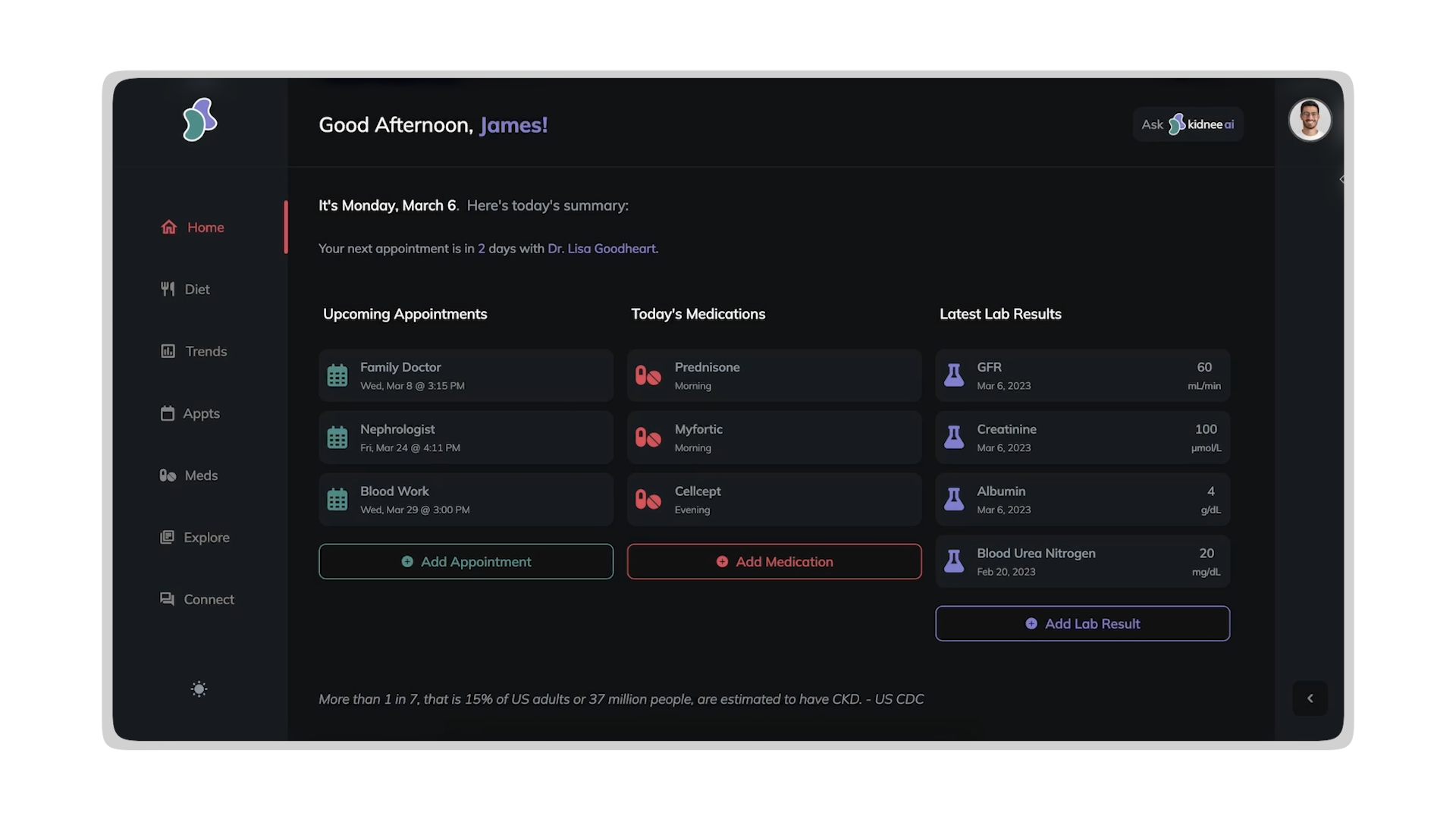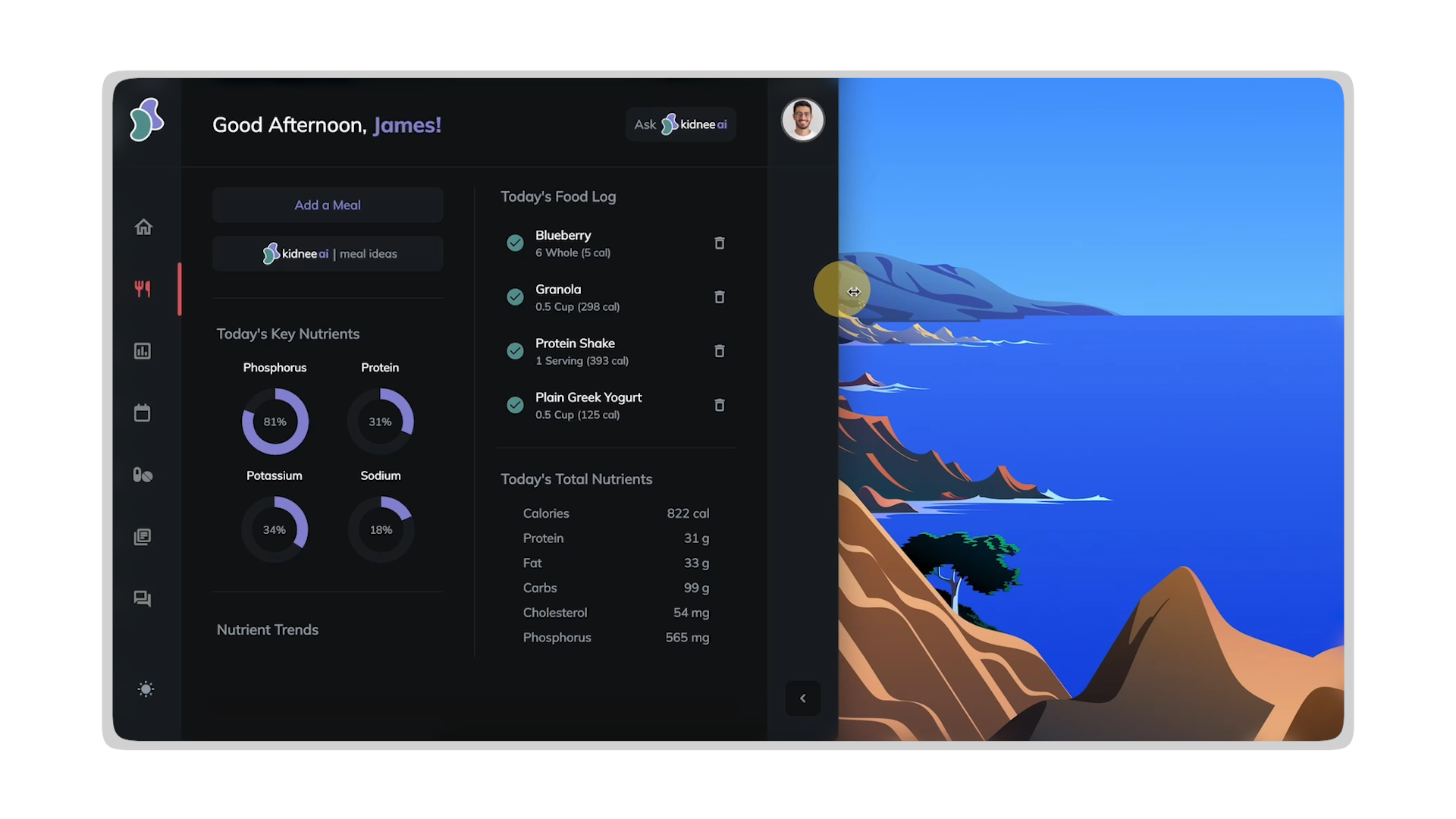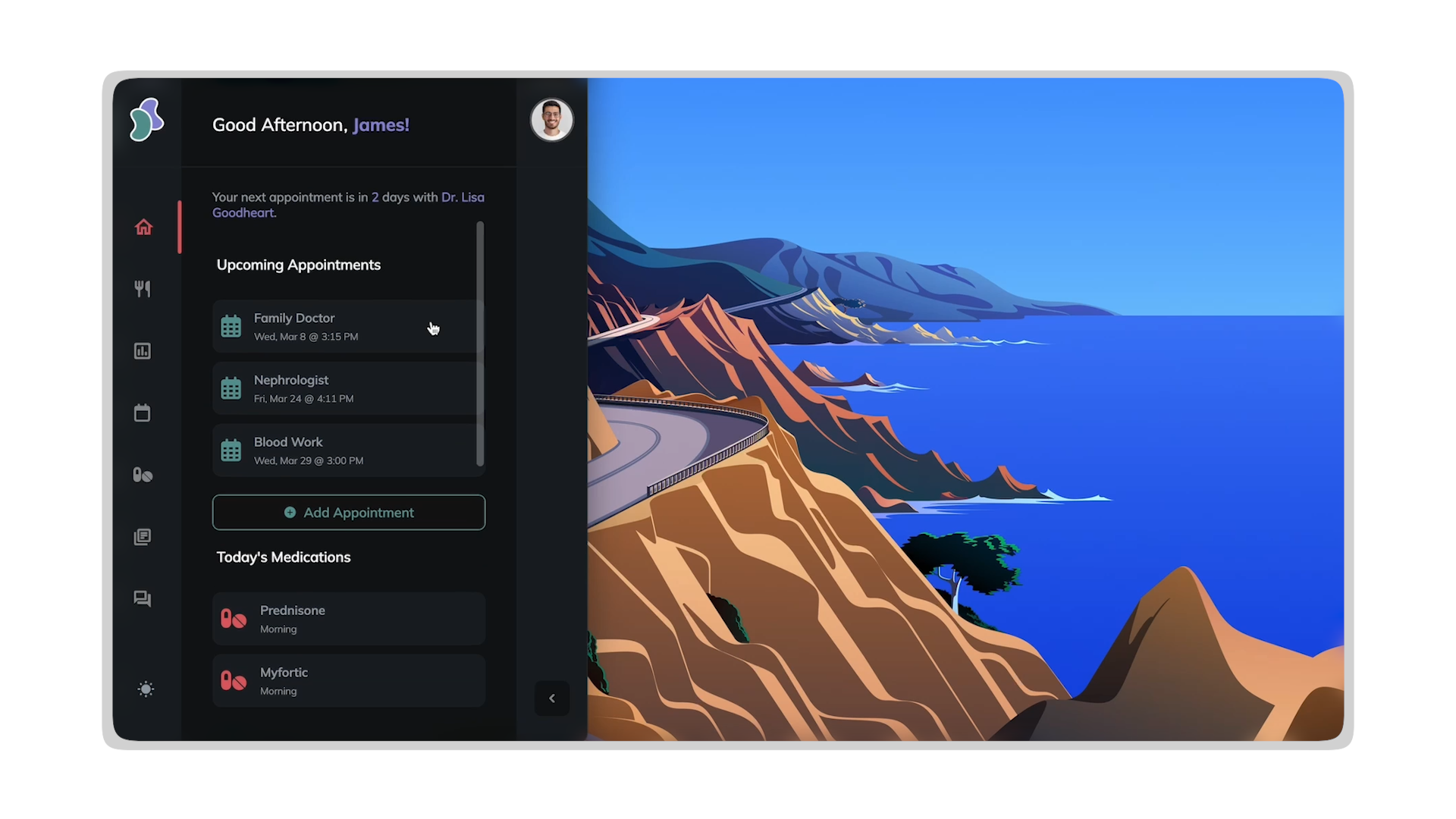 Another crucial feature is the passing of parameters with API calls & the use of components to design the application. This feature streamlines the user flow, making the app more intuitive and user-friendly.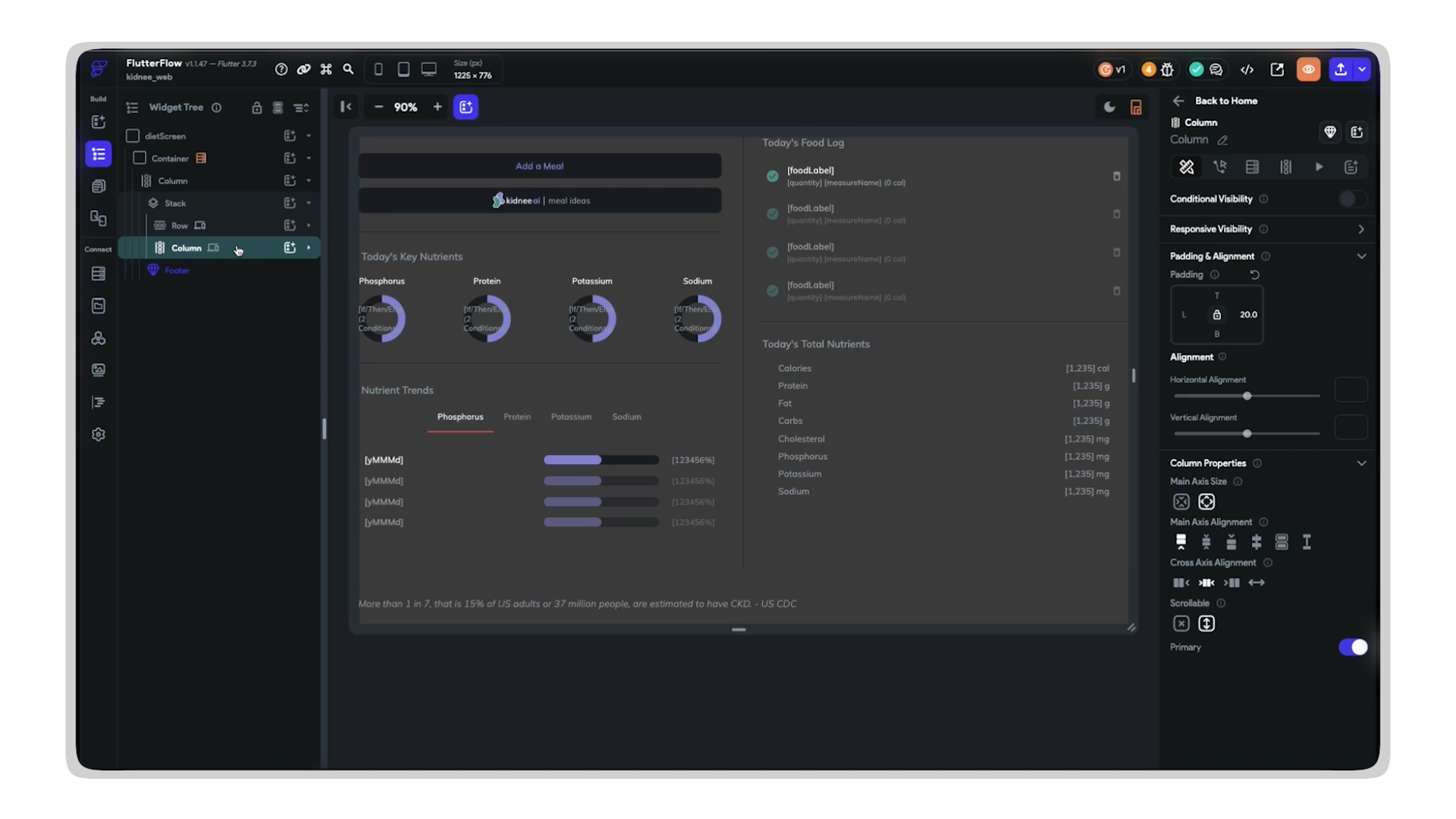 How FlutterFlow Facilitated the Development Process
FlutterFlow's intuitive platform was integral to the successful development of Kidnee. Cody and his team were able to build a responsive web app that functions appropriately across all devices, no matter the screen width. This capability, combined with the ability to pass parameters with API calls, led to a user-friendly interface that cut down drastically on development time.
As Cody explains, "Setting up your projects with responsiveness in mind from day one is really key to having an app that is scalable as its features grow." FlutterFlow allowed the team to visualize user flows, adapt them in real time, and save on development time.
In Conclusion
The Kidnee app is a testament to how technology can be harnessed to improve the quality of life for patients with chronic illnesses. Cody hopes to continue to develop Kidnee on the FlutterFlow platform and if you want to find our more, you can join the Kidnee beta.

Kidnee is a testament to how responsive design, mobile & web features, and a quick time to market using FlutterFlow can be effective in launching apps that make a difference.
If you're interested in building an application for healthcare, check out the full video on our Youtube channel and start building different at FlutterFlow.io.